This post may contain affiliate links that, at no additional cost to you, I may earn a small commission. Read our Disclosure Policy.
Hello Design Dazzle readers! I'm Vanessa from See Vanessa Craft, where I share my love for glitter and glue guns. I'm super excited to be here for 100 Ideas of Christmas Wonderful, thank you to Toni for having me! I'd love for you to stop by See Vanessa Craft and say hello. You can also find me on facebook, twitter and pinterest.
I recently crafted up Marshmallow Witch Pops for Halloween and realized how much easier and less time consuming marshmallow pops are to make than cake pops. Plus, they are just as cute. So, today I'm going to show you how to make Marshmallow Snowman Pops, just in time for Christmas! They were actually inspired by Target. Yes, as in Target the store. You see, I have a slight addiction to the Target dollar spot and the last time I was there I spotted that fabulous rainbow candy. Images of marshmallow pops using that candy popped into my head. You might just see it again, used in another project, in the near future. Stay tuned.
Ingredients
Jumbo Marshmallows
White Chocolate Melts
Mini Chocolate Chips
Candy Corn
Air Heads Xtremes Sour Candy
Paper Straws or Lollipop Sticks
Scissors
Floral Foam

Directions
Step 1: Stick a paper straw through the bottom of a marshmallow.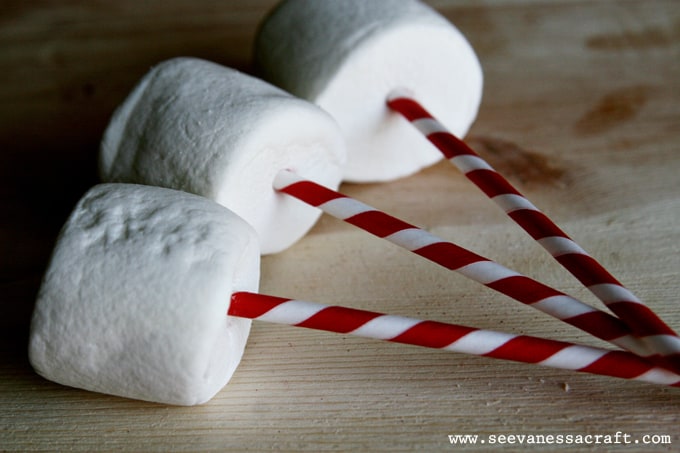 Step 2: Cut a "V" shape into one side of the Air Heads Xtremes candy.


Step 3: Melt the white chocolate melts according to the package, taking caution not to over melt. Dip the marshmallow into the chocolate, gently tap away excess chocolate.


Step 4: Place the Air Heads Xtremes candy around the bottom of the marshmallow, letting the "V" cutout piece overlap in the front. Use 2 mini chocolate chips as eyes and 5 mini chocolate chips as a mouth. Place a candy corn on the marshmallow as a nose, holding in place until the chocolate somewhat hardens and it no longer slides.
Step 5: Allow to dry and enjoy!
Brought to you by:
Thank you so much for sharing, Vanessa!
Christmas Wonderful runs until mid-December. Check back for more great ideas like this one. 🙂