This post may contain affiliate links that, at no additional cost to you, I may earn a small commission. Read our Disclosure Policy.
Hello Design Dazzle fans! My name is Mariah and I am the creator and owner of Giggles Galore. I'm a multi-tasking mom, social butterfly, craft junkie and party enthusiast. I believe in making the ordinary EXTRAORDINARY one smile at a time!
Christmas is such a magical time of the year and as a child one of the best parts of Christmas is dreaming up your wish list for Santa. I wanted to turn this ordinary event into a magical memory for my children.
I set-up a small party for the cousins at grandma and grandpa's house. Everyone came in their favorite Christmas pj's and after dinner the kids wrote their letters to Santa with there wish list full of joy. Sweet Sosbee Designs created two vintage Letter to Santa templates for the kids to write down their Christmas wishes. A fill in the blank version made it easy for the younger kids and the completely blank template was perfect for my older daughter who is learning to spell and wanted to write her very own letter to Santa.
After writing their letters the kids could indulge in red velvet cupcakes, gingerbread cookies or classic shortbread cookies and milk. Writing a letter seems like such an old-fashioned tradition so I used a vintage typewriter and my old childhood desk to set-up and display some of the yummy treats. The vintage printables from Sweet Sosbee Designs were the perfect embellishment for the store bought treats.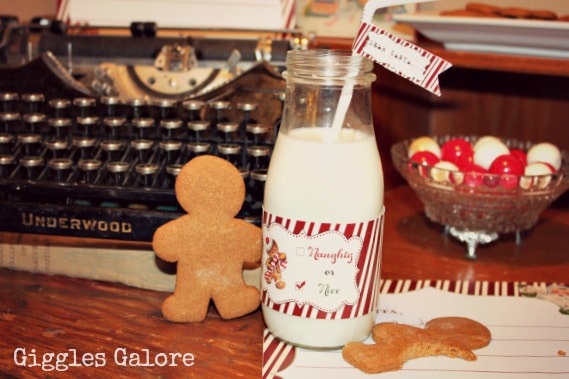 It truly was an extraordinary night watching our children light up as they talked about what they wanted for Christmas and celebrating the magic of the season.
To help you celebrate Christmas and create magical memories with your children I'm offering the Vintage Letter to Santa templates as a free download. Simply head over to Giggles Galore and "like" us on Facebook for your freebie.
Don't forget to come visit me over at Giggles Galore where I also share other fun ways to celebrate the Christmas season with celebrations like our North Pole Breakfast, our annual Gingerbread House Decorating Party and a dreamy Winter Wonderland Party.
Such fun!! Thanks for sharing, Mariah!
Christmas Wonderful runs until mid-December. Check back for more great ideas like this one. 🙂