This post may contain affiliate links that, at no additional cost to you, I may earn a small commission. Read our Disclosure Policy.
Hello Design Dazzlers! It's Telisa here from SugarTot Designs where I love sharing paper crafts, free printables and my latest design projects around the house. I hope your Superheroes had fun picking out super powers over the summer with my boredom buster. This time, I combined my favorite things for a holiday project . . glitter, christmas, printables and the help of my boys! The result, a mini glitter banner for their Christmas tree!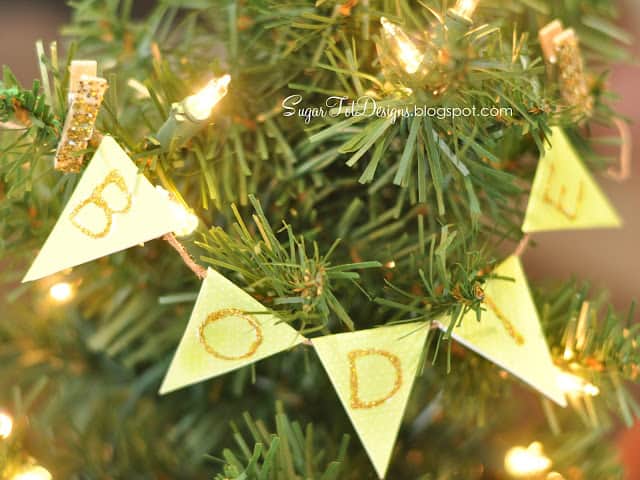 All you need is:
Printout of banner
Scissors
Glue
Glitter
Twine or Ribbon
Mini Clothespins
To begin, let your kids pick which color they want and find the letters to spell their name.
(The possibilities are endless here, you can use any Christmas words or save these for later use as cake toppers, party decor or any holiday banner. . . your welcome:))
RED
NEON GREEN
YELLOW
TEAL
PURPLE
SEA GREEN
PINK
Click the buttons above to download the color(s) of your choice.
After you have downloaded and printed out your mini banner, simply cut out each banner,
carefully put glue on the letter – you could also use glitter paint,
sprinkle the glitter on the glue
(my boys favorite part, we might have used a whole jar on one letter when my 2 year old wanted to help;))
and shake off the excess,
fold each banner in half,
glue over twine or ribbon,
and you have a mini banner ready to hang!
We even glittered our clothespins to hang them
(yep, obsessed with glitter right now).
Thank you so much for sharing, Telisa!
Christmas Wonderful runs until mid-December. Check back for more great ideas like this one.
Title:
Christmas Wonderful: Glitter Banner
Last Updated:
August 11, 2020