This post may contain affiliate links that, at no additional cost to you, I may earn a small commission. Read our Disclosure Policy.

Hi everyone, I'm Heidi from Mom's Crafty Space and I'm so excited to be back at Design Dazzle as part of the 100 Ideas of Christmas Wonderful. In our area of California we don't usually get snow in winter, so snow themed crafts are always a big hit with my boys. This faux snow paint activity is super simple to create and is guaranteed to keep the kiddos occupied for a long time!
To create snow paint, mix together white school glue and foam shaving cream. I found that a ratio of 1/2 cup glue to 3/4 cup of shaving cream worked well.
We used light blue construction paper and crayons to draw some pictures that we thought would look
good with a little extra snow and texture.
Apply the paint to the paper with a large brush, and use a dabbing motion to build up layers of paint for
additional texture.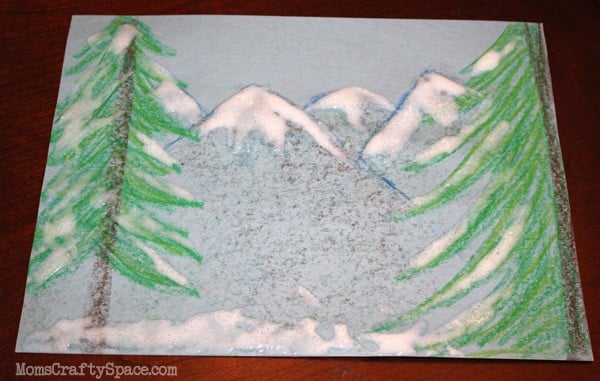 The results dry lightly puffy from the shaving cream and shiny from the glue. It looks so pretty and icy!
For more holiday ideas and kids crafts come visit me at Mom's Crafty Space, and be sure to follow me on Facebook, Twitter and Pinterest!
Thanks for sharing, Heidi!
Christmas Wonderful runs until mid-December. Check back for more great ideas like this one. 🙂
Title:
Christmas Wonderful: Faux Snow Paint
Mentions:
christmas wonderful, faux snow paint, kids christmas craft
Keywords:
Faux Snow Paint
Last Updated:
October 31, 2020