This post may contain affiliate links that, at no additional cost to you, I may earn a small commission. Read our Disclosure Policy.
Who doesn't love decorating for Christmas?! Turning on some classic Christmas tunes, baking cookies, putting ornaments on the tree- what's not to love? There's something so sentimental and special about making your home look festive and beautiful during the holiday season. Decorating for Christmas is one of my favorite traditions. But every year, the season ends and the New Year comes…and then we have to take everything down including the tree (except with my tip you'll save time and store your decorated Christmas tree!)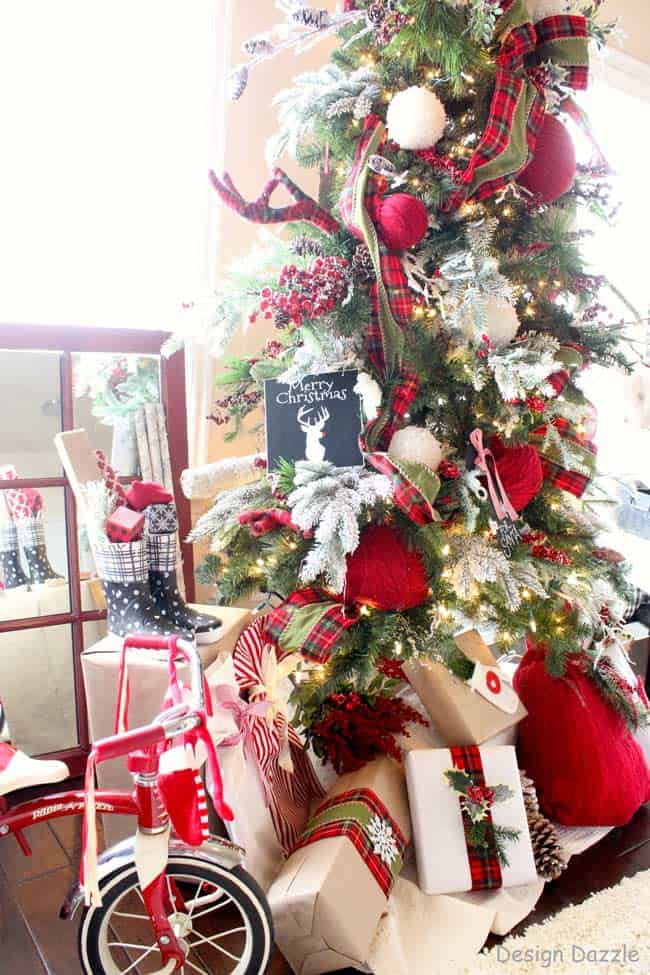 This year, rather than take your tree down, just wrap it up! I have been wrapping my Christmas tree- ornaments, ribbons, and all- for years. It makes cleaning up Christmas this year, as well as decorating next year, that much easier!
Now just to let you know. After Christmas our family tree that we decorate together as a family – this one gets taken down and put away. Our family ornaments get stored away in a box and the tree gets placed in a tree bag. This is the one exception to the rule of wrapping a tree. Because that is our family tradition – decorating the family tree TOGETHER!! I only wrap my decorator tree that the family doesn't decorate.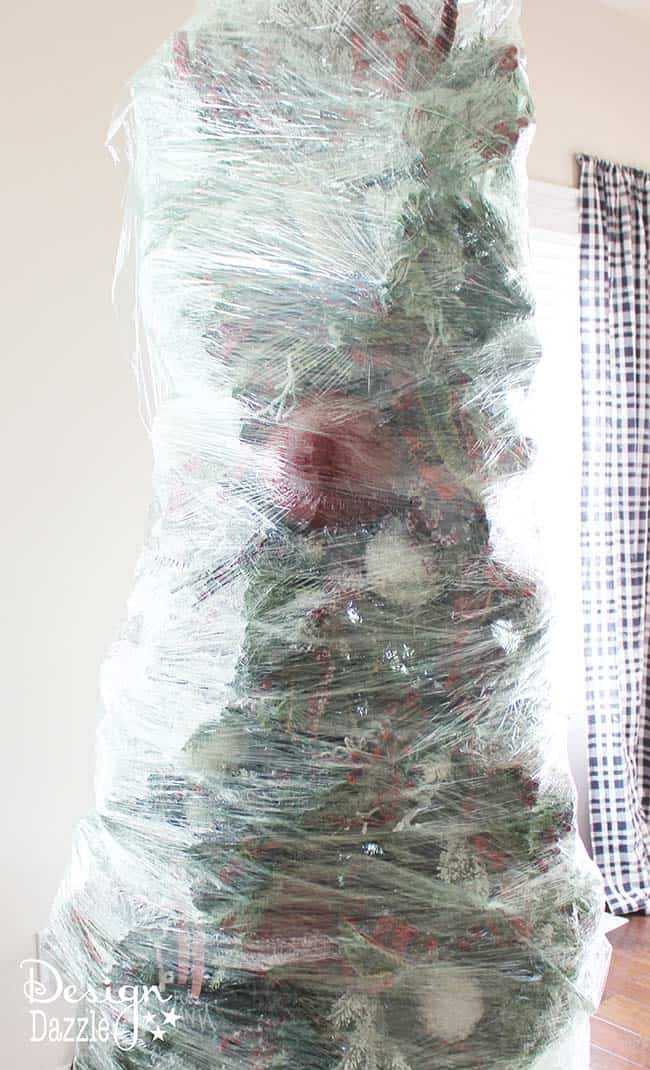 For this post, I will show you how I wrapped my beautiful Santa's Cabin in the Woods tree from last year. Remember how beautiful and fun it turned out to be? This was one of my favorite Christmas trees ever. Well, enough reminiscing, let's get to work!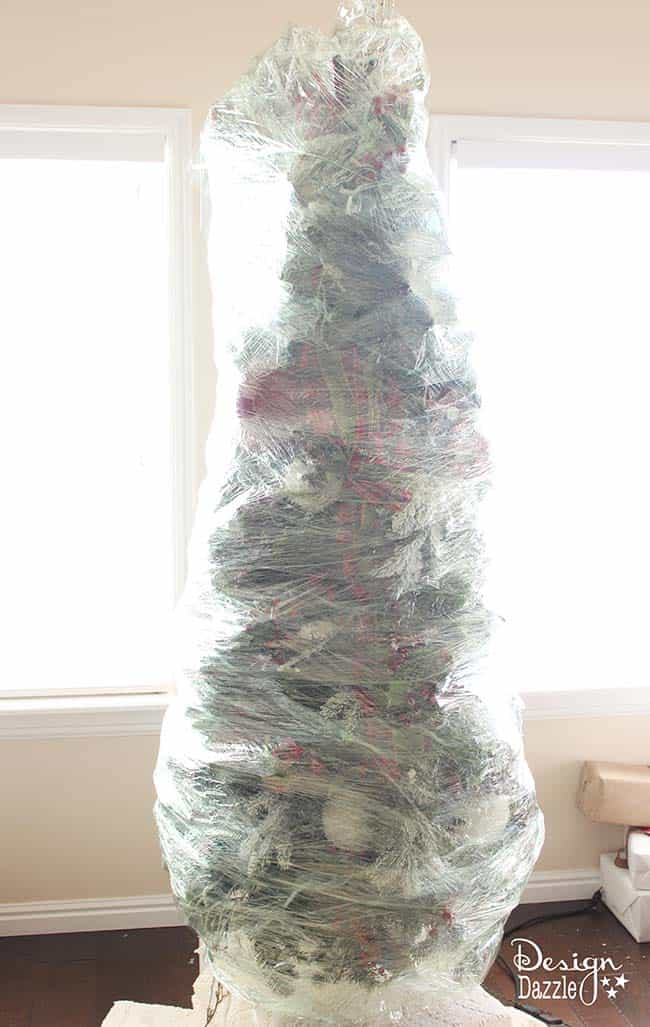 This post contains affiliate links at no extra cost to you. For additional information, please see our disclosure policy.
All you need for this project is heavy duty Stretch Wrap and an extra set of helping hands. Do NOT use kitchen stretch wrap. The heavy duty wrap I used is typically used for moving and storage. Kitchen wrap will NOT work.
Remember to wrap as tightly as you can so that everything will stay in place. You will want to wrap several layers so that it will be nice and secure.
Having one person hold one end of the wrap, while the other person walks around with the wrap makes it quite a bit easier. After the first layer, the second person can help guide the wrap. Or you could even switch off 0n either side of the tree. You will quickly find what works best for you. Make sure to start at either the top and bottom. Wrap very tightly. Wrap away!
The best tips to successfully wrap your Christmas tree:
Only wrap smaller trees – 6 feet and smaller are ideal. I have wrapped a 7 foot tree that was more of a slimmer tree. So it wasn't very heavy.


Do NOT wrap trees with breakable ornaments. Breakable ornaments need their own ornament container.


If you plan this in advance, add a steel rod to your tree before decorating. Zip tie the rod to the tree "trunk" from the bottom of the tree to the top. This will help the tree from coming apart while moving it (steel rod purchased at home depot).

have TWO people do this together

wrap TIGHTLY and TIGHTLY!!!

Wrap the tree at least three times, if not four times with the wrap.

 You'll find you will save space by storing it this way.

If you need to take this up or down stairs, I would just take the tree down and not wrap with pallet wrap (unless a small tree).

Use a quality stretch wrap (not from your kitchen). Like the one shown below…

Stretch Wrap with Extended Core Handles
This stretch wrap will last several Christmases if you're wrapping an average size tree.
When next Christmas rolls around just take a pair of scissors and cut of the wrap. You'll want to spend a few minutes just fluffing the branches and fixing a few things. But trust me – this will save TIME, your ENERGY and SPACE! If you have breakable type ornaments this wouldn't work with wrapping the tree this way.
I love little tips like these that make decorating for Christmas easier (at least next year). These tips give us more time to enjoy our families and make new traditions, and focus on what Christmas is really about. I hope you love wrapping your Christmas tree as much as I do! Now that's a wrap. 🙂
For those who don't want to wrap a tree. Order your Christmas storage bags and containers now or else they will be hard to find the week after Christmas.
MY FAVORITE STORAGE CONTAINERS:
I've personally purchased this storage bag many times. I put all my unbreakable holiday decor in it – wreaths, Christmas trees, garlands, and more. I also use it for all my holiday pillows. Yes, it is great storage for those cute throw pillows!
This is also wonderful for holiday wreaths
Upright Christmas Tree storage