This post may contain affiliate links that, at no additional cost to you, I may earn a small commission. Read our Disclosure Policy.
Do you need a "Christmas-y" looking sweet treat for a holiday gathering? We've got you covered. It's an easy to make, simple wreath or Christmas tree that is perfect for parties! No artistic talent or baking skills required! This is another great treat to make as a family.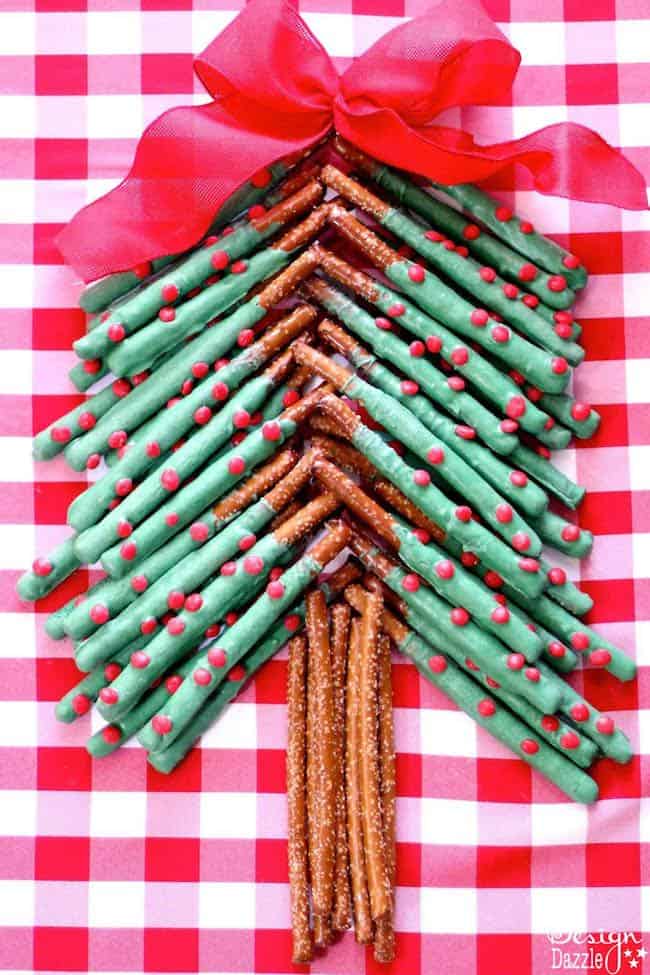 What you will need:
● Pretzel rods – 2 packages were used
● Dark Green Melting Candy (Make sure to check out my fool proof method for melting candy melts here.)
● Red Hot Candies or something similar
● Extra-large platter round for wreath or rectangle for tree
● Ribbon (optional)
First, melt your melting candy in the microwave. Read the package instructions for directions. Do not overheat the candy! Overheating causes the candy to clump. Use a tall drinking glass to melt the candy melts in. It is a good way to coat the long pretzel rods. The goal is to have smooth, melted candy that does not clump, but rather, drips off ever-so slightly and evenly when dipped into. While you wait for your melting candy to melt in the microwave, lay out sheets of parchment paper for your pretzels to dry on.
Next, dip each pretzel rod in the melting candy. No need to cover the entire rod– just the majority of it. I like to drag the pretzel's underside on the rim of the glass to get rid of excess melting candy. This allows for a cleaner finish. Place coated pretzel onto the parchment paper.
Next, while the melting candy has had a minute or so to set-up (but still wet), place red hot candies along the length of the pretzel rods. These candies act as holly berries for your wreath!
Once your pretzels are completely dry (less than ???? hour), you can now arrange them into a wreath shape. Use a can of food to help create the round wreath shape. This is done by placing the can in the center of your plate, and then fanning each pretzel from the can. This helps you create a circular shape.
If you would like, add a bow to your wreath to make the final touch of holiday spirit! These pretzel rods can also be used to form the shape of a Christmas tree, which is another cute way to display! ????ust take some bare pretzel rods and add them to the bottom of the tree to act as the trunk. Y????ou can add a bow to this one too!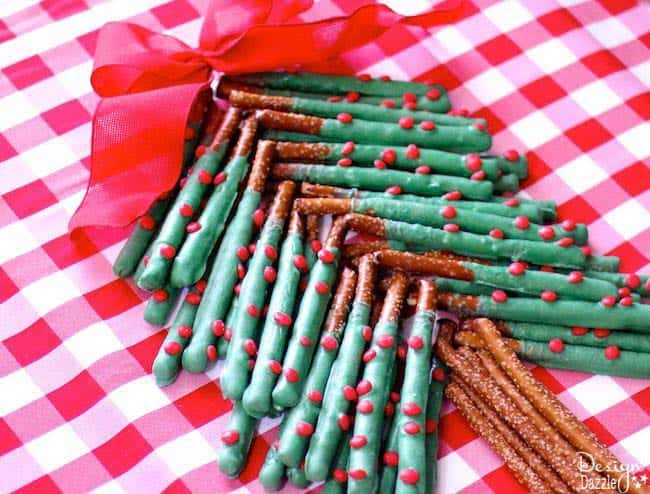 Not only is this project easy and adorable, it is also a yummy snacking food! Enjoy!