This post may contain affiliate links that, at no additional cost to you, I may earn a small commission. Read our Disclosure Policy.
Hello Design Dazzle Readers! My name is Angie and I blog over at Echoes of Laughter. I love sharing ideas & inspiration for decorating, crafts, organizing, recipes and helping busy moms find solutions to make life easier. I am so happy to be here to share this easy little Christmas project with you! I love making Christmas crafts with children and sharing in their joy & enthusiasm for the season. These cute Christmas mice pencils are a great craft for kids to make to share with friends or to use as package toppers. The supplies are very economical to purchase and most can be found at the dollar store.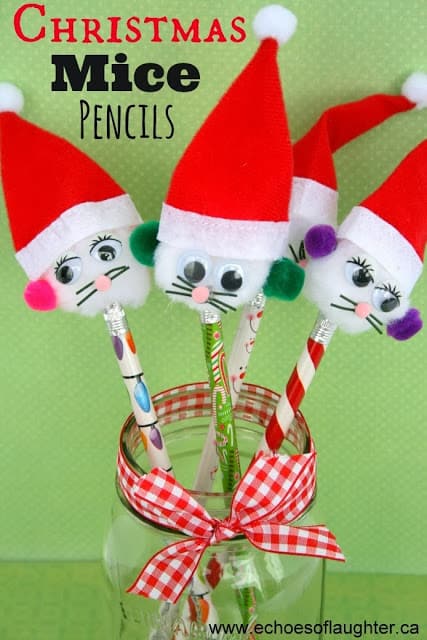 In order to make these little Christmas mice, here are the supplies you will need:
Supplies needed:
Christmas Pencils
White pom poms, approx. 2 inches in size
Red Santa hats
Small coloured pom-poms for ear muffs, approx. half inch
Tiny pink pom-poms for mice nose
Google eyes
Wire, I used Christmas tree hooks
White glue or glue gun
Wire cutters
Instructions:
1. Glue red Santa hats on white pom-poms. Then attach google eyes.
2. Using wire cutters, snip small pieces of Christmas tree hooks to make whiskers. Attach 2-3 whiskers to face with glue and top with a tiny pink pom-pom for nose.
3. Glue small coloured pom-poms on each side of head for ears muffs. Then glue mice head to the tops of pencils.
That's it! And depending on if you happen to have google eyes with eyelashes, you can make 'girl' mice or 'boy' mice or some of each!
This is a great project for little hands to make during the holiday season, and with some hot chocolate and treats…you have yourself a fun Christmas party too!
I would love for you to come visit me to see some of my other Christmas projects that are perfect for kids:
Easy Paper Straw Snowflakes
Easy Cinnamon Bun Christmas Tree Cookie
Cinnamon Bun Snowman
Cookie Decorating Kit
Thank you so much to everyone at the Design Dazzle Team for having me here today! It's been a blast, and from my house to yours…I wish you much merry-making in the weeks to come!
Title:
Christmas Mice Pencils
Mentions:
christmas, christmas wonderful
Keywords:
christmas mice pencils
Last Updated:
August 12, 2020