This post may contain affiliate links that, at no additional cost to you, I may earn a small commission. Read our Disclosure Policy.
Hello and happy December! My name is Shani and I blog over at Sunshine & Munchkins. I'm so excited to be here on Design Dazzle as part of the Christmas Wonderful 2018 series. Christmas really is a wonderful time of year! One of my favorite things to do with my kids is come up with fun activities they can do that don't require a lot of prep work. This cute and easy Christmas light chalk art activity definitely fits this description and I can't wait to share it with you!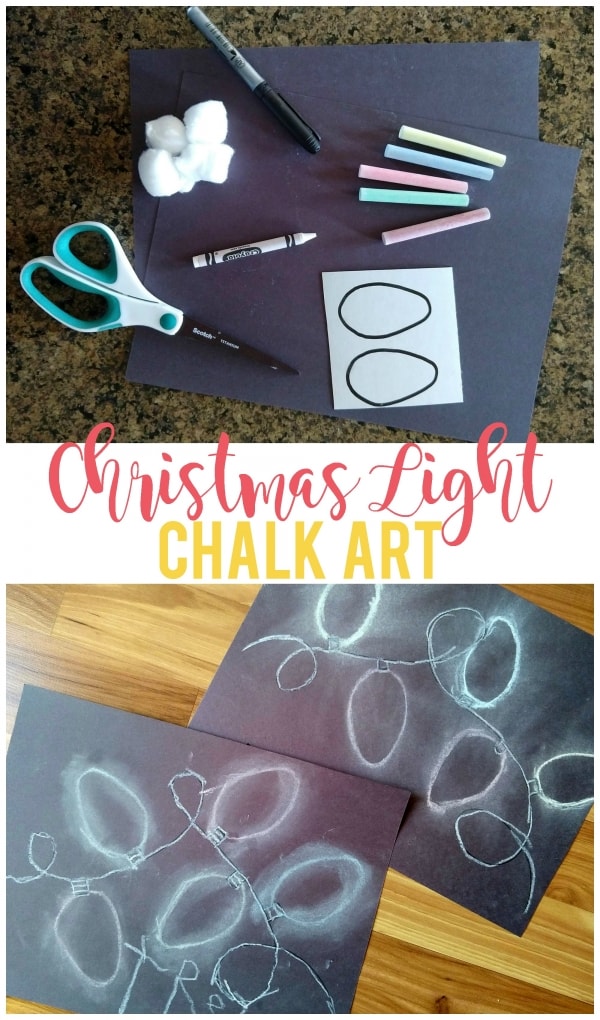 If your kids are anything like mine, they love looking at Christmas lights, whether they are on our tree, our house or the park. This little craft allows them to make their own glowing Christmas lights with just a few supplies and materials.
The supplies you'll need are pretty simple:
black construction paper
Sharpie
colored chalk
white crayon
cotton balls
thin piece of cardboard or cardstock
scissors
First, you'll need to cut out your Christmas light bulb shape. I used some thin cardboard I had in my craft room and free handed the shape of a light bulb and cut it out. The bulb I made was about 2.5″ tall and 1/5″ wide. (If you have more than one child doing this activity, I'd recommend cutting out one for each child.)
Next, grab a piece of black construction paper and draw a curvy/loopy line on it with the marker with small squares spaced out along the line. (see below) This will act as a guideline for your kid(s) to know where to put their light bulbs. Give them the white crayon so they can trace the black line and squares.
After this, they will need to use the light bulb shape you cut out earlier. They will need to place it on top of one end of a square and trace it with a piece of colored chalk.
Once they've traced all their bulbs onto the paper, have them use the cotton ball to brush the chalk outward. This creates a "glowing" effect. If you have more than one child doing this activity, you may want to write (or have them write) their names on the paper using the white crayon.
And that's it! My kids loved doing this simple activity. It is a great activity to do at home, school, day care or babysitting and uses supplies that you likely already have or don't cost much to buy. My kids are 6 and 4 and they were both able to do this activity with minimal help and supervision. If you are doing this activity with kids younger than 4, they will need a little help but should still be able to do it.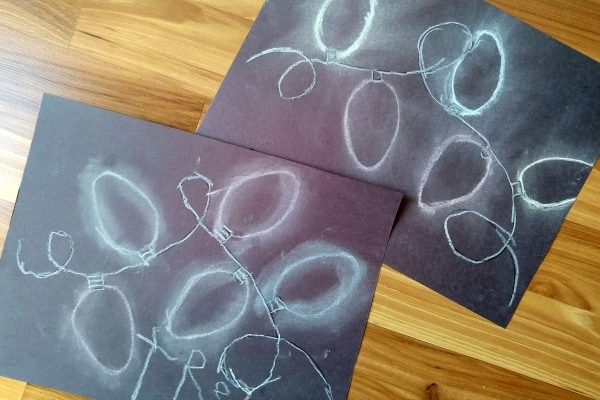 *Note: I recommend creating an example for them to follow so they can see the finished project and refer to it as they make their own string of lights.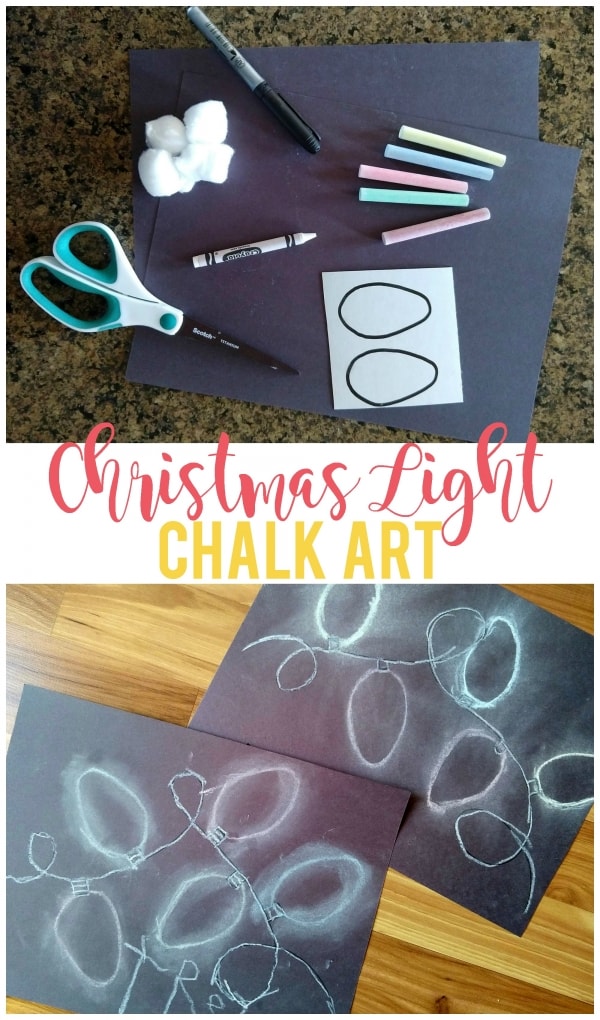 For more fun crafts and DIY projects, check out my blog here.
Thank you so much for having me and I hope to see you around!
Keep in touch with Shani by connecting with her via her blog, Facebook, Instagram and Pinterest!
________________________________________________________________
Thanks so much to Shani for sharing this cute Christmas light chalk art with us! Be sure to check out her
blog
for morre fun crafts, DIY projects, etc!
_______________________________________________________________