This post may contain affiliate links that, at no additional cost to you, I may earn a small commission. Read our Disclosure Policy.
You put up your lights outside, decorate your tree, string garland on your mantel, hang a wreath on your door, and create the perfect gingerbread house. But do you usually decorate your dining room? I love having little details of Christmas throughout my home, especially in places you might not usually think to decorate. Here are a few simple ideas for decorating your dining room in a beautiful way!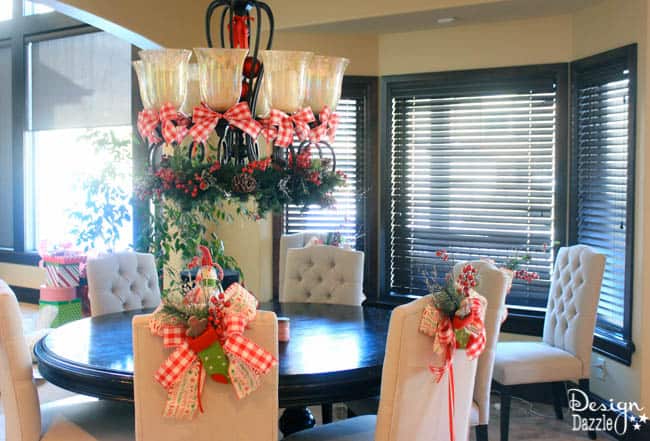 I love what a few bows, garland, and little accessories can do to a room! Here is a full shot of my dining room decor- garland on the chandelier, a snowman centerpiece, and gingerbread stockings hanging on every chair. Here's how to do it.
Chandelier: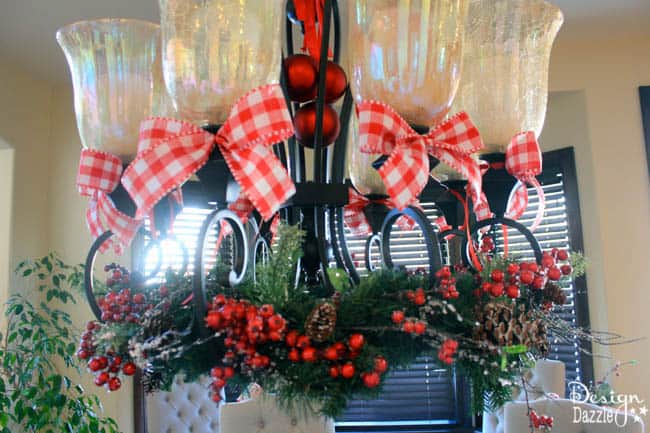 Everyone's chandelier/light fixtures are different, so get creative with how you decorate! For mine, I laced garland with berries and pine cones throughout the cast-iron curls. I then made a simple bow to put on the base of each light (I show you how to make my simple bows at the end of this post!). I then hung a few ornaments from ribbons at the top of the chandelier in the middle.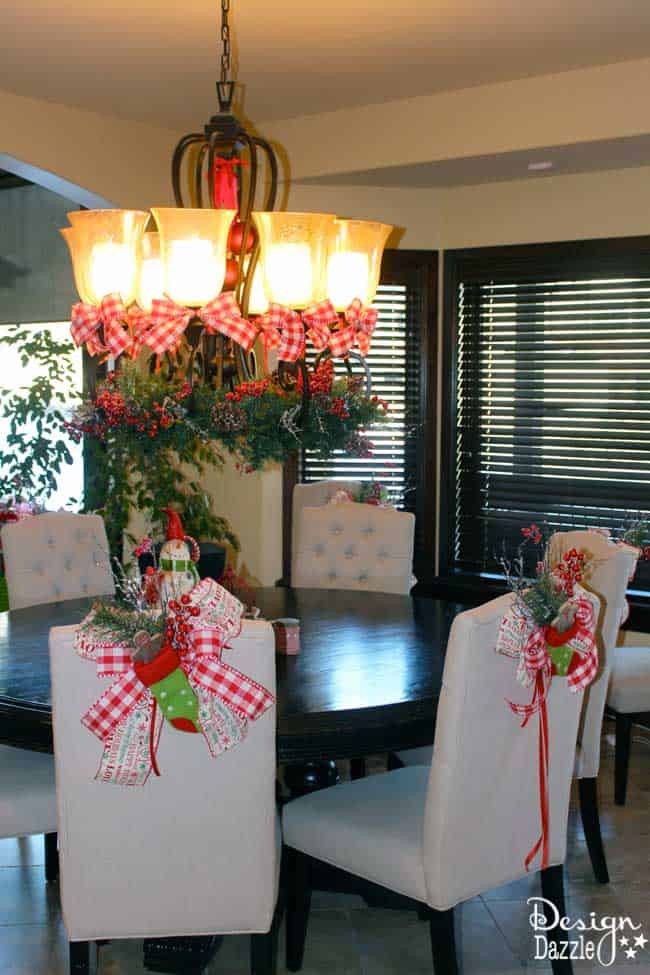 Here's the chandelier decor with the lights on. I love how the garland and ribbon fit so perfectly below the glowing lights- so whimsical and festive. It looks so elegant!
Snowman Centerpiece: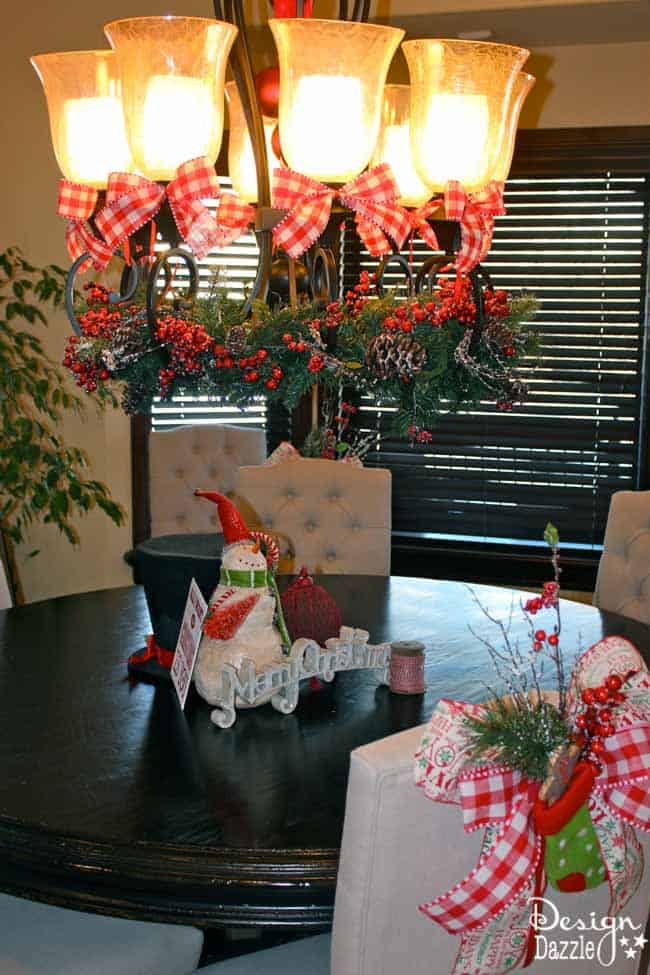 I decided to keep this centerpiece simple to really showcase the chandelier and chair decor. I gathered some of my favorite small Christmas decoration pieces: a snowman, a snowman top hat, a spool of red & white candy cane twine, a cute "Merry Christmas", and one of my favorite holiday printables! You can make many variations of this and it will be festive and fun!
Gingerbread Man Chair Decor: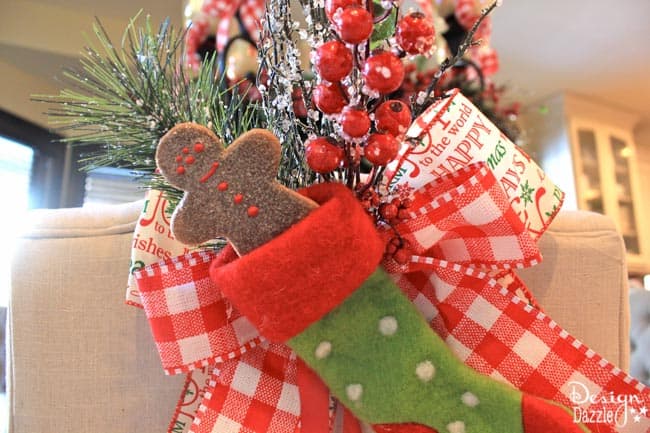 For this simple chair decor, make two layered simple bows (tutorial below). Attach greenery and berries with wire. Then, attach stocking with wire. Put a cute little gingerbread man (homemade or from the store!) in your stocking with care.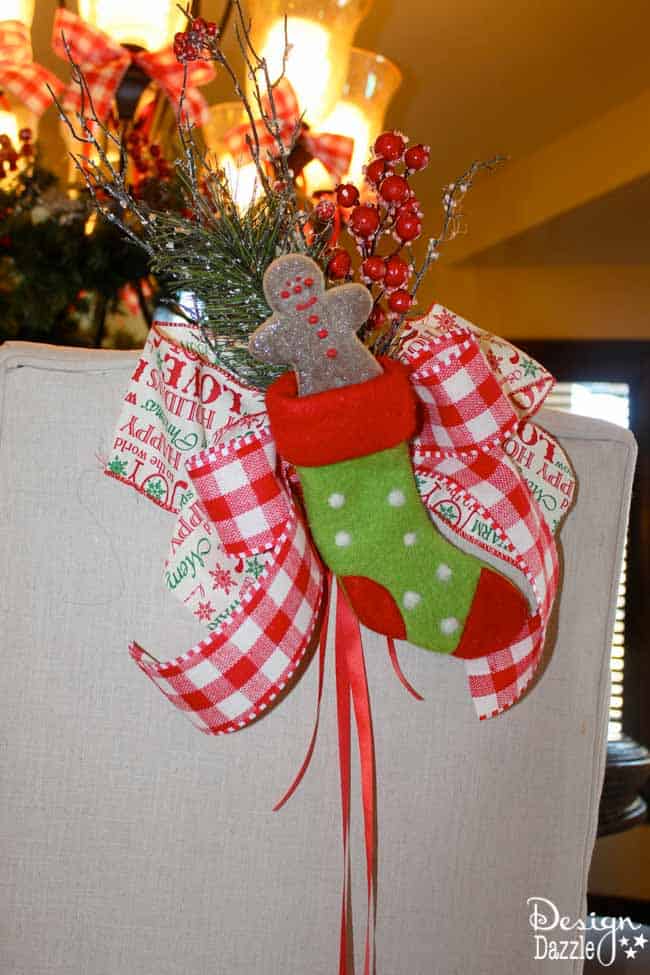 Attach the bow (with accessories) to the back of the chair with a really strong straight pin. A small, regular pin might not be strong enough, so I suggest you use a thick, quilting pin.
Simple Bow Tutorial:
Step 1: Cut your ribbon to the length you want the bow to be. Loop it over each other like in the photo above. Get a thin strand of ribbon- you will use this to tie your bow in the end.
Step 2: If you want to make a layered bow (like mine for the chair decor), cut another strand of ribbon and loop it over the same way as the first ribbon. Make sure to make the second ribbon shorter than the first- I also like to use a ribbon that isn't as wide. Put them on top of each other.
Step 3: Use the thin strand of ribbon (or thread, string, wire, etc) to tie a tight knot around the center of the bows. Trim this ribbon very short and tuck the tails under the loops of the bow.
That's all it takes! I love this simple way to make bows! When putting them on your chandelier, Christmas tree, or elsewhere, simply attach the bow with wire. I love how easy it is to put them up and take them down, without ruining the bow! You will love this new way of tying bows.
Here are a few of the items you can use to decorate your dining room this Christmas season.
This post contains affiliate links at no additional cost to you. For further information, please see our disclosure policy.
Gingerbread Ornaments
I hope you enjoy putting little touches of Christmas all throughout your home as much as I do. Be sure to use this tutorial for making simple bows for everything- I absolutely swear by it!
How do you decorate your dining room for Christmas?