This post may contain affiliate links that, at no additional cost to you, I may earn a small commission. Read our Disclosure Policy.
Hi there,
Kiki here from A Little Polkadot in Sydney Australia! we are so thrilled to be sharing with you a little bit of Christmas Wonderful with our Christmas Candyland dessert table ideas.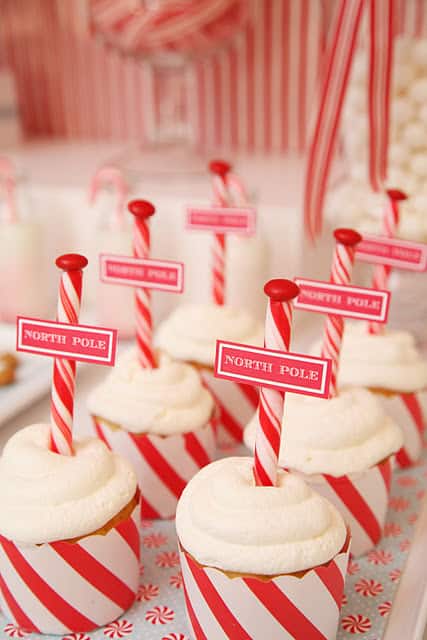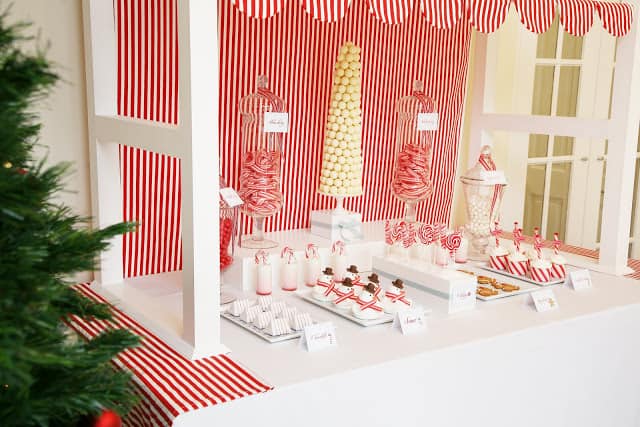 Christmas is a magical time of year – it's a time to be with family, to take a break from work, we celebrate the birth of Jesus Christ and little ones wait excitedly to see what Santa will bring.
We celebrate Christmas in Australia a little differently it's usually REALLY hot – it's the middle of Summer! and a typical Christmas day in Sydney involves a feast of Lobster, Prawns (Shrimp) and Smoked Salmon, Oysters, freshly carved Ham and an array of yummy salads with pavlova and fresh berries for dessert! Once all that has settled it's pool time, swimming and having fun well into the evening. A little different from how our Northern Hemisphere friends celebrate – but this Christmas Candyland Dessert table that we created works fabulously WHEREVER you are!
Little ones will have so much fun helping to bring this table together from gingerbread men to snowmen meringues and north pole cupcakes it's a feast for the eyes and so much fun!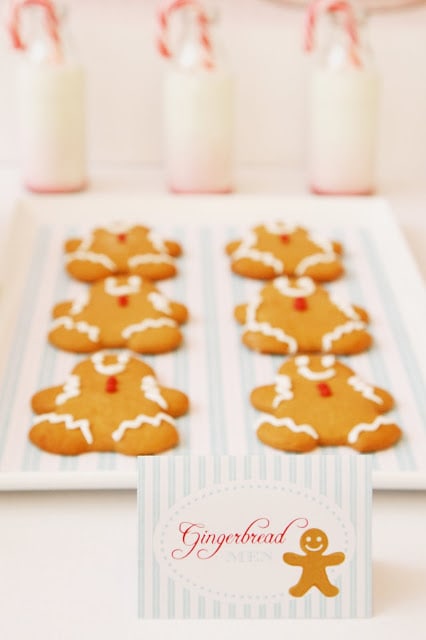 The kids will love helping to decorate these Gingerbread Men and they fill the the house with the most wonderfully heady scent of honey when they are baking you'll just love making them and here's the recipe…
(recipe by Kim Coverdale)
150g butter, chopped
1/2 cup firmly packed dark brown sugar
1/2 cup honey
1 tsp bicarbonate of soda, sifted
1 egg lightly beaten
1 tbls ground ginger, sifted
1 tsp mixed spice, sifted
1/2 tsp baking powder, sifted
3 cups plain flour, sifted
Royal icing to decorate.
METHOD
1. Place butter, sugar and honey in a saucepan over medium heat. Cook, stirring, for 3 minutes or until sugar is dissolved. Bring to the boil. Remove from heat. Stir in bicarbonate of soda. Transfer to a large, heatproof bowl. Cool.
2. Stir in egg, ginger, mixed spice, baking powder and flour until combined. Divide dough in half. Shape into discs. Cover with plastic wrap. Refrigerate for 1 hour or until firm.
3. Preheat oven to 350degrees/320degrees fan-forced. Grease 3 baking trays. Line with baking paper. Roll 1 dough disc between 2 sheets of baking paper until 1/8 inch thick. Using a 3 inch gingerbread man cutter, cut shapes from dough, re-rolling dough scraps. Place, 1 inch apart, on prepared trays. Repeat with remaining pastry disc.
4. Bake, 1 tray at a time, for 8 minutes or until just firm to touch. Stand on trays for 5 minutes. Transfer to a wire rack to cool completely.
5. Once cooled decorate with royal icing. You can buy pre-mixed royal icing from cake decorating suppliers – you just add water and beat the mixture.
Another super fun treat that we featured on our table is the adorable Meringue Snowmen. These are super cute holiday dessert table ideas!
These are a little trickier to make but they are just so cute – you must give them a try!
6 egg whites (at room temperature)
pinch of salt
1.5 cups castor sugar
METHOD:
Beat egg whites and salt until soft peaks form, add castor sugar a spoonful at a time and beat until the mixture becomes thick and glossy.
Pipe the mixture into "snowmen" using a 3/4 inch tip by piping a mound for the body, "C" shapes for the arms and a smaller mound for the head.
Colour a little left over meringue orange and pipe a "carrot" nose onto the snowmen with a #2 tip.
Bake the Snowmen in a low temperature oven 195 degrees for 2- 2.5 hours, turn the oven off and leave meringues inside to cool.
TIP: If your meringue has a beige tinge once cooked, your oven was too hot, make a new batch and cook on a lower temperature.
Once your snowmen are done decorate them with a little hat made from chocolate fondant using mini round cookie cutters and a strawberry sour strap as a scarf. Lastly, pipe on little eyes using melted dark chocolate.
Dessert Table Ideas for the Holidays: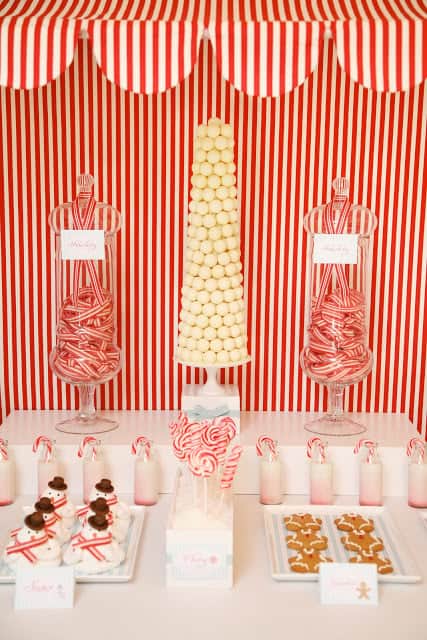 We also created a white chocolate truffle tree as our centerpiece to the table – really simple to do, simply paint a cardboard cone the size you want your tree to be in melted white chocolate then using a little melted white chocolate "glue" white chocolate truffles onto the cone….and voila! a gorgeous edible tree!
We thought little "North Pole" cupcakes were just too cute not to have on our table. Cute dessert table ideas, indeed!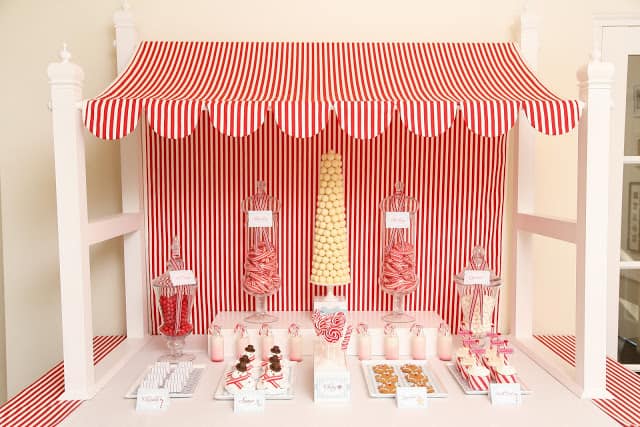 The canopy backdrop that we used is quite elaborate, but you can create an equally striking backdrop by simply hanging a panel of fabric on a wall behind your table using 3M hooks or covering pre-stretched art canvasses with fabric – you just need a little imagination.
We shot this table back in May this year and only had a week to prepare for it! You can see a feature on our Christmas Candyland Table in the current Holiday Issue of Romantic Homes magazine.
Our very best wishes for a happy and safe holiday season.
Kiki & Di
******************************************************
A few years ago we celebrated Christmas in Australia. It was a huge highlight and memory my family will never forget. And yes, lobster, ham and shrimp were the delicious main course. It was a wonderful time to celebrate Christmas Down Under with our loved ones.
Thanks girls for sharing this beautiful Candyland Dessert table ideas! It is so adorable. You girls ROCK!
Toni xo

Title:
Candyland Dessert Table Ideas
Mentions:
Christmas party, christmas party ideas, christmas table, christmas table ideas, christmas wonderful, holiday party, holiday party ideas, holiday table ideas, Kids Parties, party ideas
Keywords:
Dessert Table Ideas
Last Updated:
December 4, 2020