This post may contain affiliate links that, at no additional cost to you, I may earn a small commission. Read our Disclosure Policy.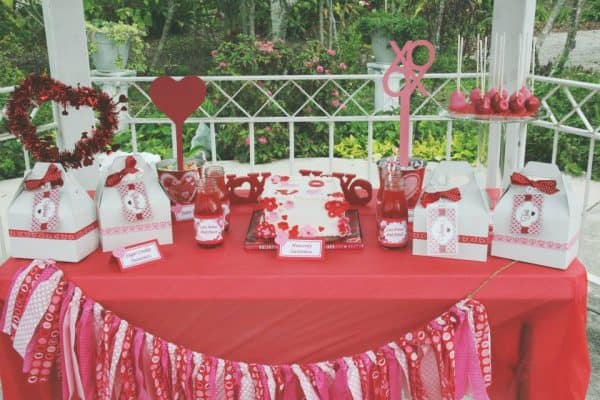 Susan from Party With The Warriors sent us this fun Candy Kisses Valentine party that she put together for her daughter and friends. As Susan put it "Valentine's Day is a day we celebrate love and friendship. The girls had so much fun dressing up in tulle skirts, beads, and wearing sparkly shoes doing what little girls do best – laugh, giggle and have fun."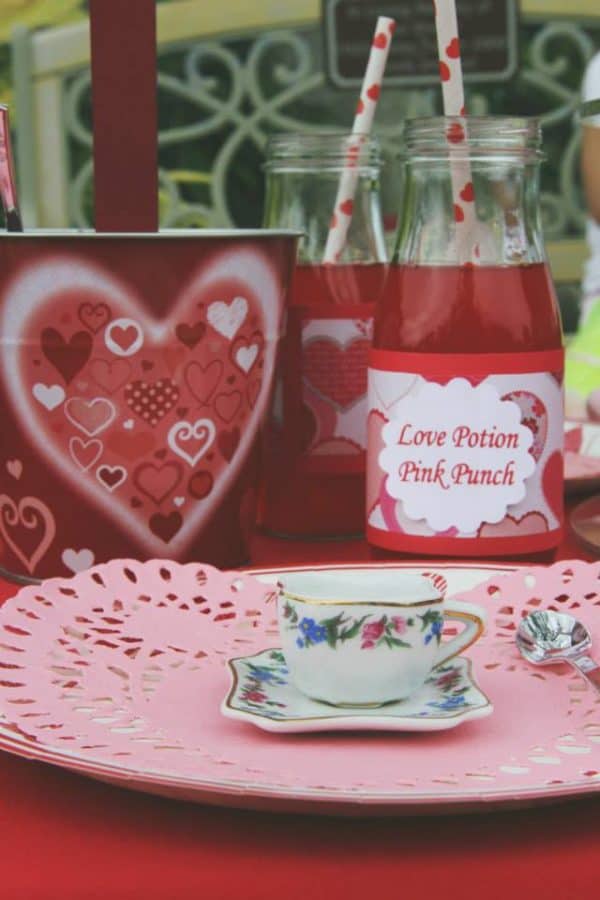 She chose the theme Candy Kisses with lots of reds and pinks. Since it was an afternoon tea party, she wanted the girls to have a table setting that was not just fun but also sophisticated with a touch of elegance. They used miniature china tea cups, some pink formal dining napkins to help add a special little look to the table. For our centerpieces Susan painted some wooden Valentines signs placed them in cute Valentines buckets filled with candy sweets and used two on each table.
For the dessert table Sharon found some adorable hearts to use on the table as well as some glittery red XOXO to help make the table complete. The desserts were amazing and included a beautiful cake, some red velvet cupcakes, cake pops, some amazing cookies and of course lots of candy sweetness. The girls drank "Love" potion pink punch and talked about kissing boys… Oh to be young at heart!
The girls were each given a beautiful white favor box which was decorated with a little red and pink ribbon with a personalized luggage tag attached to the box. Inside the box was some cute hair accessories. The day was a little windy, somewhat cool but they had a good time with each other and that's what it's all about the love of friends!
Thanks so much for sharing Susan!
Party Styling by Party With the Warriors-  https://partywiththewarriors.org/
Photographer-Cassandra's Images   https://www.facebook.com/cassandrasimages
Hoopla Events-Favor Boxes   https://hooplaevents.net/
Kima's Konfections-Oreo Cookies   https://www.kimakonfections.com
Creating Awesomenessity-Valentines Sugar Cookies   https://creatingawesomenessity.com
Petits Plaisirs Chocolata Treats-Valentines Cake Pops    https://www.chocolata.ca
Cakes By Dee- Valentines Cake   https://www.cakesbydee.com
Ladycakes-Valentines Cupcakes  https://www.ILOVELADYCAKES.COM
The Bottlecap BOWtique-Hair Accessories, Beads, Tulle Skirts, Red White and Pink Candy Heart Dishes, miniature tea cups
https://www.facebook.com/TheBottlecapBOWtique
Sugar Shack Crafts-Personalized Luggage Tags for Favor Boxes   https://www.sugarshackcrafts.com
Ten 23 Designs-Wooden Valentines Centerpieces   https://www.ten23designs.com
Fizzy Party-Red and Pink Tulle Poms  https://www.fizzyparty.com
Creativities Galore-Printables   https://www.etsy.com/shop/CreativitiesGalor
The Pretty Party Shoppe-Valentines Party Straws and Spoons   https://www.theprettypartyshoppe.com/about/
Lillypaul Designs-Fabric Garland   https://www.lillypauldesigns.com
Valentines Buckets- Michaels Craft Stores  https://www.michaels.com/
XOXO Table Decoration-Target Stores https://www.target.com/


Title:
Candy Kisses Valentine Party
Mentions:
valentine party
Keywords:
candy kisses valentine party
Last Updated:
December 1, 2020