This post may contain affiliate links that, at no additional cost to you, I may earn a small commission. Read our Disclosure Policy.
When it comes to classroom crafts, Mother's Day gifts has some of the best ideas out there! There's nothing quite as wonderful or full of love as a homemade gift from your kids! Here are some awesome ideas that are sure to have moms smiling, and are fun for the kids to make, too!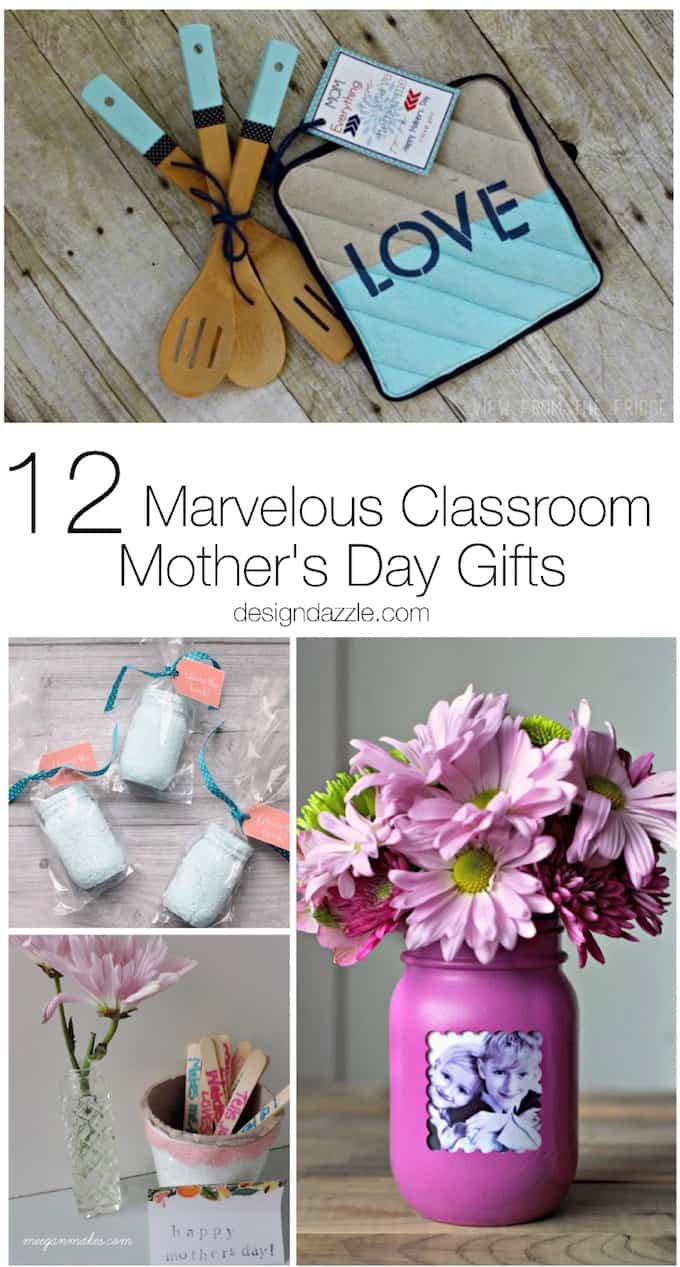 Make memories last with this creative and cute little accordion photo book! It's the perfect way for kids to preserve some of their favorite moments with their mom, and everyone can add their own personality with the decorations!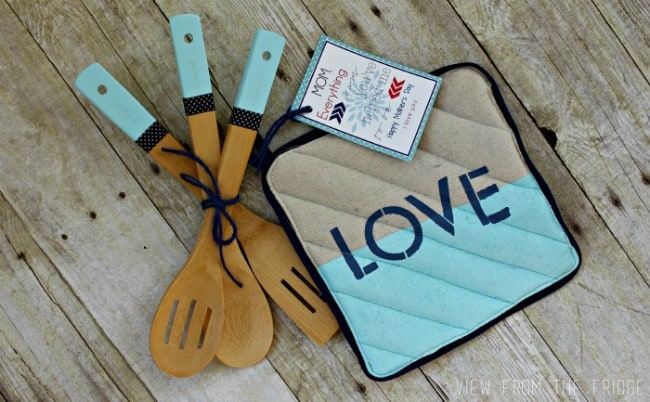 2. Kitchen utensils are something that every mom always seems to need more of! You definitely can't go wrong with this gift, and the personalized dipped ends add the perfect homemade touch! Get all the instructions here!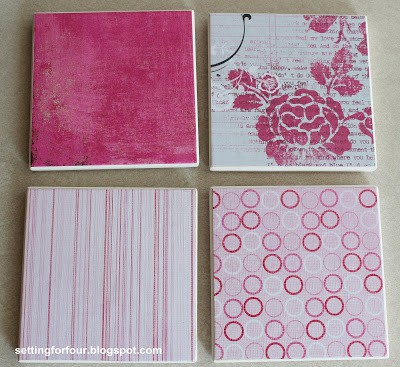 3. Every room needs some adorable coasters for your drinks, and having kids decorate and personalize a set for mom is sure to be a hit that will be around for years! It would definitely be fun to see what sort of designs the kids can come up with! Learn more about the craft here!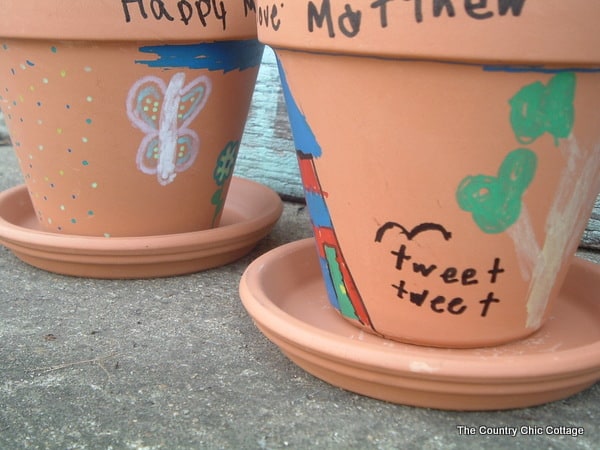 4. Flower pots are such a great base for creativity and a perfect gift for Mother's Day since it's the perfect time to fill them with gorgeous spring flowers! These personalized flower pots will be loved and used for years to come!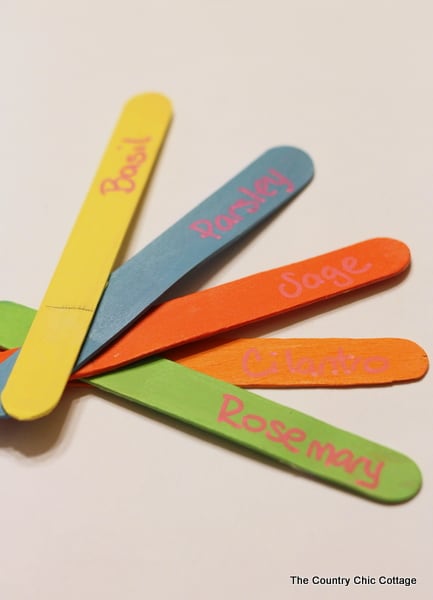 5. And to go with those beautiful new flower pots? How about some herb / plant markers! The child's handwriting will look so cute on the markers and make a perfect gift for all those summer herbs that will just be starting to grow! You can see the list of supplies needed here.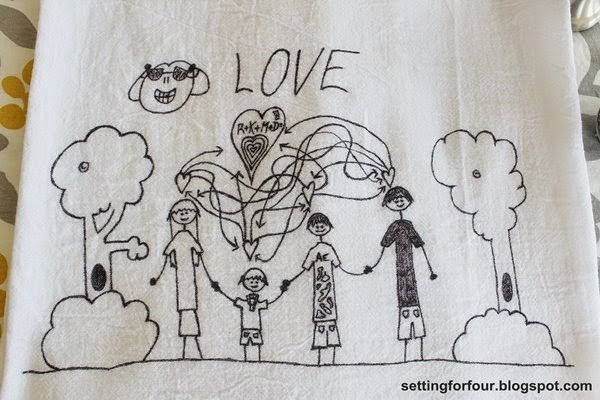 6. You can never have enough tea towels, am I right? Having your kid's special drawing displayed on a tea towel for years to come would be a precious gift to receive! I love how unique and personal this gift is! You can get all the steps and supplies to create them here!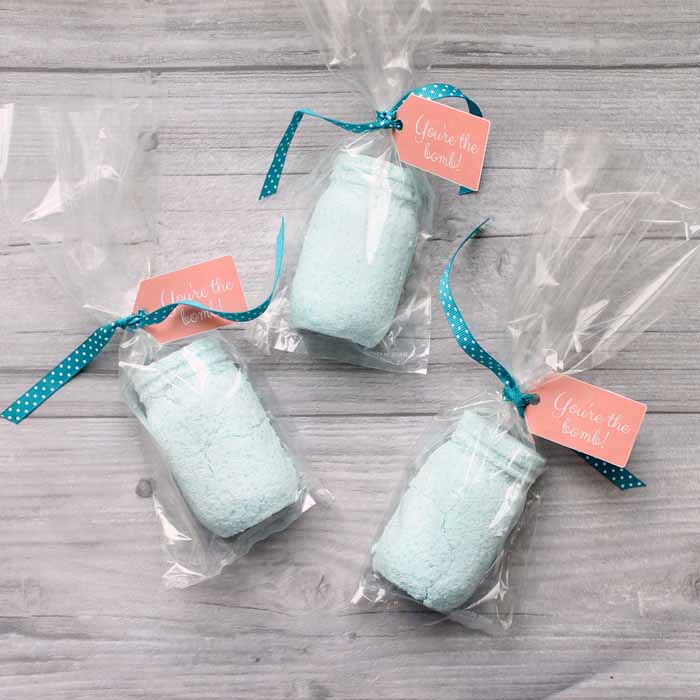 7. If there's one thing every mom could use, it's a nice long bath to relax in! These lovely and yummy smelling bath bombs are such a luxurious gift that don't take too long to make. Plus, the use of a mason jar makes it less messy and give it its cute shape!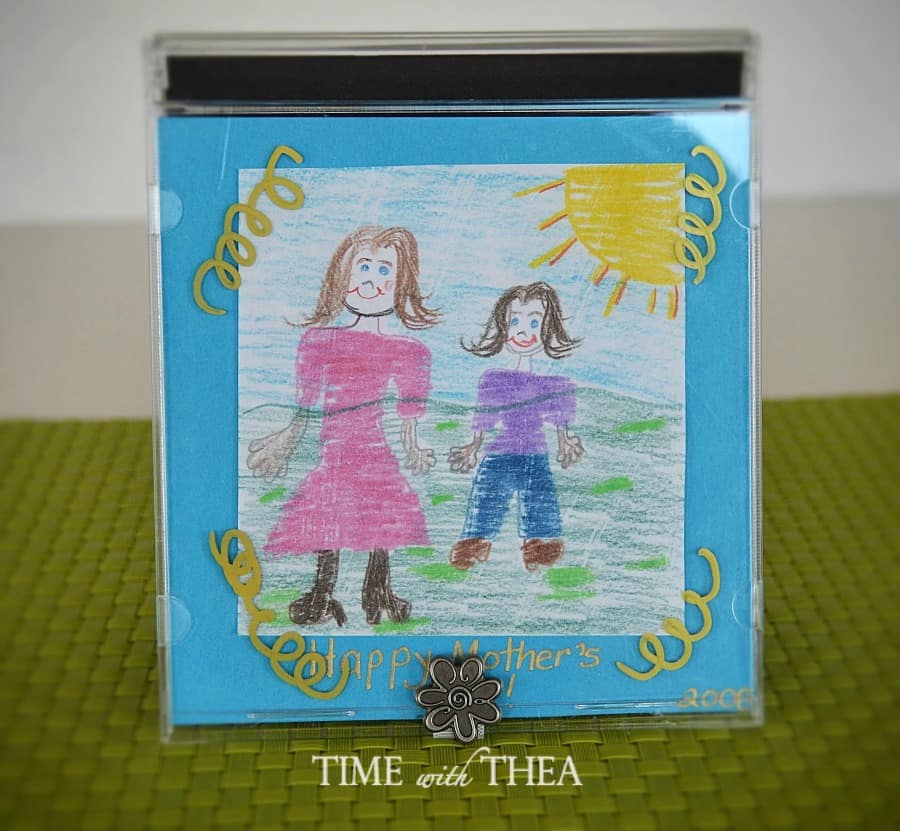 8. Putting your child's artwork on display is always fun, and this clever use of a CD case makes it even easier! This is definitely a gift a mom will want to save to look at years down the road! Even better, it's super simple to make! Check out the instructions here.
9. This is another wonderful idea using a flower pot, but can easily be made using a mason jar or basket, too! Having the kids write down a list of things they love about their mom using Popsicle sticks is a great way to get them to think about all the amazing things that moms do!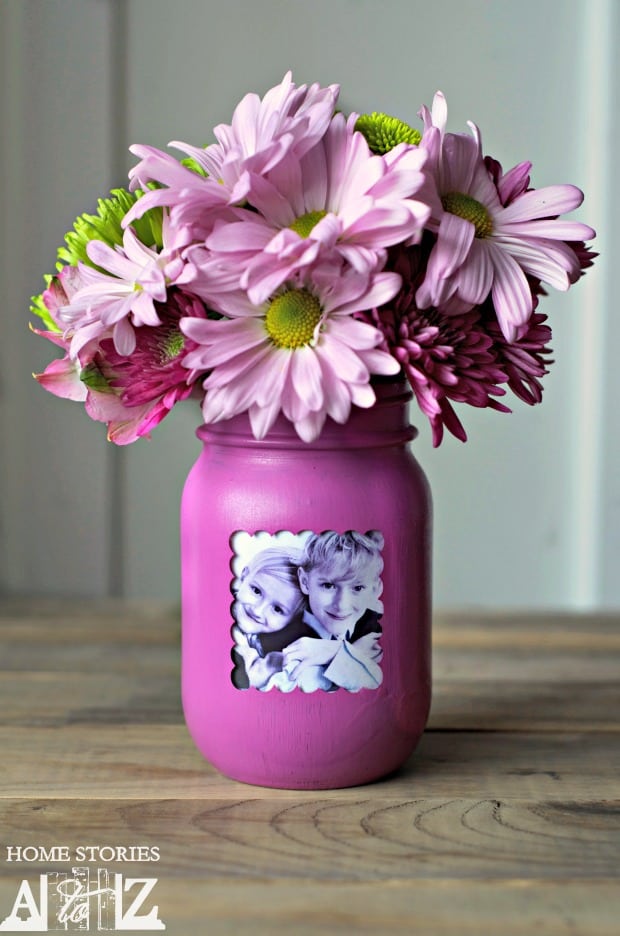 10. This is a fantastic little mason jar gift that doubles as a vase! I love the special touch that the photo gives and how cute this would look anywhere in the home. Add fun paint colors and flowers, and the kids are going to have lots of fun putting it together! See all the steps here!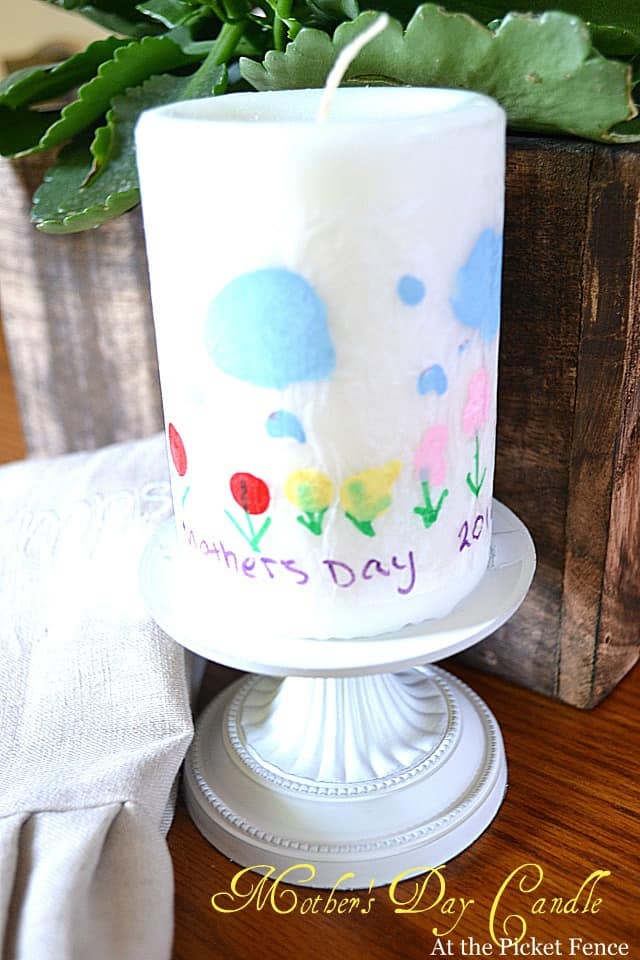 11. Candles are an awesome way to warm up a room, but you won't to be burning this one when it has a special drawing on it! Transferring a child's drawing to a plain candle is a lot easier than it seems, and this gift will make a big impact when it's opened!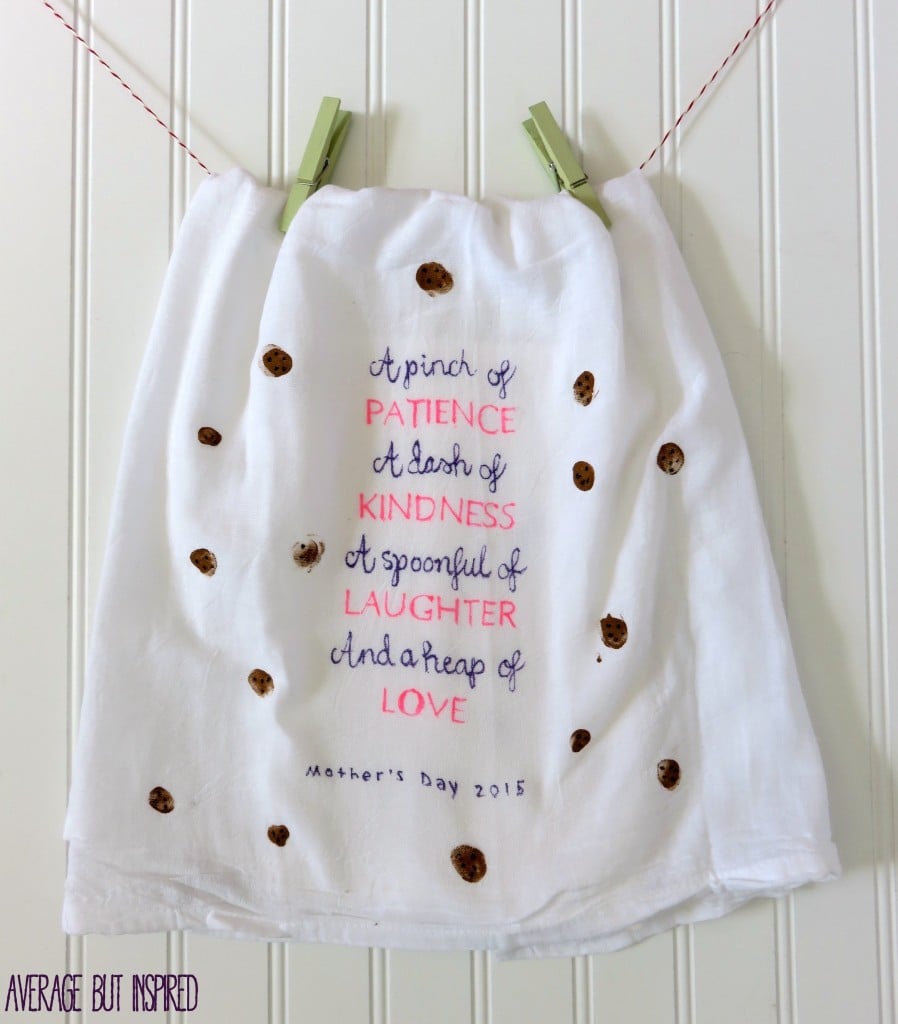 12. Fingerprints are the one thing about a child that might never change, so using them to create a personalized dishtowel is a fantastic idea! The finished result is adorable and would look great in any kitchen!
Which one of these fun activities do you think your kids would like the most?