This post may contain affiliate links that, at no additional cost to you, I may earn a small commission. Read our Disclosure Policy.
This shop has been compensated by Collective Bias, Inc. and its advertiser. All opinions are mine alone. #DamageFreeHoliday #CollectiveBias #CBias

I've been having so much fun decorating my home. My kitchen is in the process of being decorated with a kitchen-themed Christmas. I wanted to create a Gingerbread Man Christmas Wreath for my kitchen, to have something to hang that was a bit more "Christmas kitchen-y". This will be my first Christmas decorating this kitchen. I've already decorated my Mrs. Claus Cottage Christmas tree and going along with some of the same theme.
An important part of decorating are the tools and supplies. In my stash of decorating tools and supplies are the Command™ Brand strips which I've been using for years! They are absolutely wonderful because the hooks do not harm to the walls or most indoor surfaces.
The Command™ Brand strips can be purchased at Walmart. I found them in two spots – in the fastener aisle and also the holiday decorating aisle.
When you are ready to change the location of the hook (yes, it is possible!) all you have to do is pull the tab from underneath the hook. This pulls the strip off the wall and the hook, leaving no trace at all. I repeat, no trace at all! To place the hook elsewhere, you just use another refill strip that is provided in the packet. It's great! There is not a single hole to fill, nor residue to clean. Read the instructions on the package to use properly.
I'm hanging a bunch of decor items with one of them being the gingerbread man Christmas wreath. It's an easy wreath to make and would be a fun family crafting project. I'm sharing the tutorial with you for you to recreate!
To start, I use a pool noodle. Believe it or not, the pool noodle makes great wreaths! I have also used them in another Christmas craft, which can be found here. Using the pool noodle as the base of my wreath makes the perfect shape, it's cheap and is easy to use! If you don't happen to have a foam pool noodle laying around, purchase foam pipe insulation in the plumbing department at your local hardware store. It's inexpensive and typically much cheaper than a wreath shape from a craft store.
Supplies:
Command™ Clear Medium Hooks or Command™ Small Wire Hooks (can be purchased here). Depending on the size of your wreath will determine the size hook to use.
Duct Tape
Ribbon (similar ribbon can be purchased on Amazon here).
White, red and black dimensional fabric paint (each puff paint, or 3D paint, can be purchased on Amazon here).
Foam Gingerbread Man Shapes (can be purchased on Amazon here).
Scrap fabric (approximately one yard or more)
Pool Noodle (can be purchased on Amazon here).
Instructions: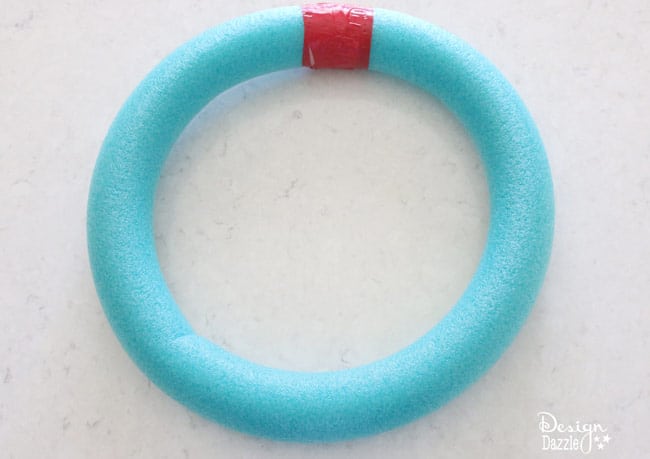 Shape and bend the pool noodle into a circle, duct taping the ends together. Make sure that the duct tape is very secure.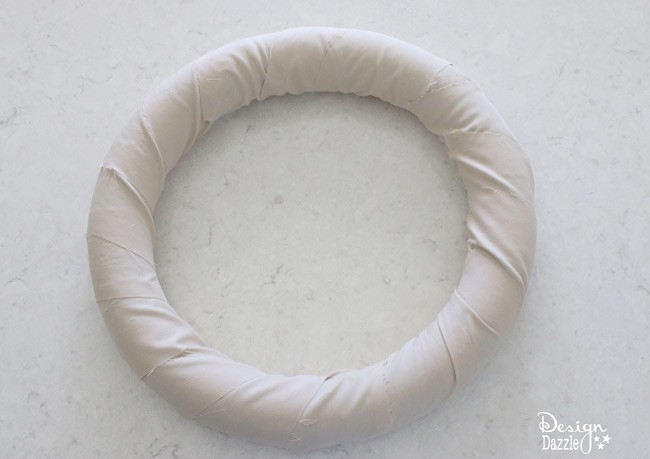 Cut or rip the fabric into strips and wrap each strip around the pool noodle so that the entire noodle is covered. The strips can be hot glued into place.
Set out your foam gingerbread man shapes. Lay out the shapes on top of your wreath to see how many you would like to use. Nine gingerbread men were used on the wreath depicted. If you would like to add a bow to your wreath, leave an empty space for it to be glued. Once you know how many gingerbread man shapes you will use, you can start decorating them!
Use the white dimensional fabric paint to "frost" the gingerbread man shapes. You can outline the gingerbread men, draw squiggly lines, shoelaces or buttons… it is up to you!
For adding the details to the face, you might want to let the white paint dry first. Once the white paint is dry, you may use the black 3D paint for the eyes and mouth, and the red 3D paint for the heart-shaped cheeks.
Once the gingerbread men are completely dry, add little bow ties to each one using ribbon.
Now that each gingerbread man is ready, start hot gluing each one to the wreath. Keep in mind that the big bow to be added to your wreath needs an empty space to be glued.
Take your favorite Christmas ribbon and make a bow. Here is a simple way that I like to tie my bows. This wreath has three sets of loops. You may use this method, or you can double up your bow with another ribbon. Use hot glue to glue the ribbon onto the wreath.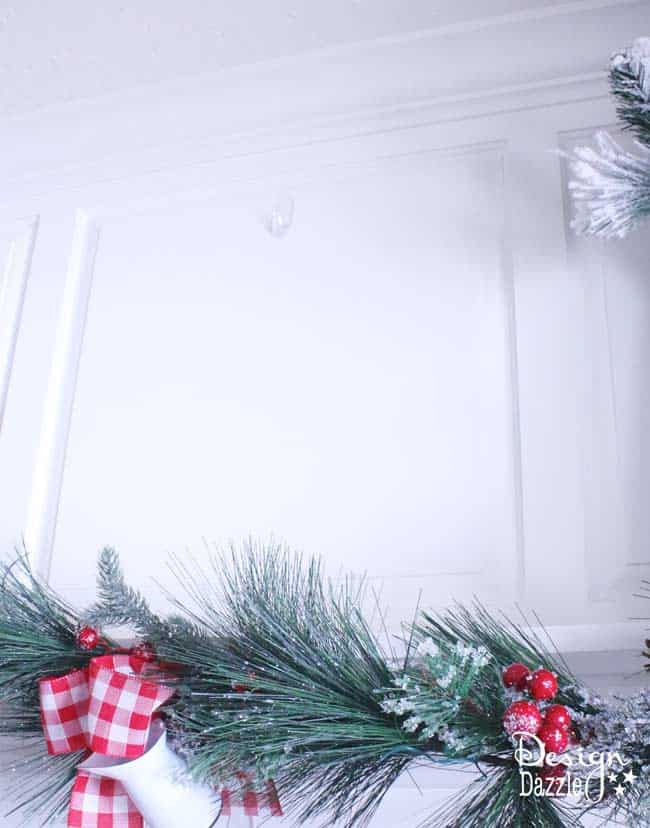 Place your Command™ Clear Medium Hooks and Command™ Small Wire Hooks where ever you would like the wreath to rest. Hang the ribbon on the Command™ Brand strip, step back, and admire your new gingerbread man Christmas wreath! You will be surprised at how many of the Command™ Clear Medium Hooks or Command™ Small Wire Hooks you can use in decorating. I also used the Command™ Brand strips to hang the garland and the rolling pin. Check the first image for the details.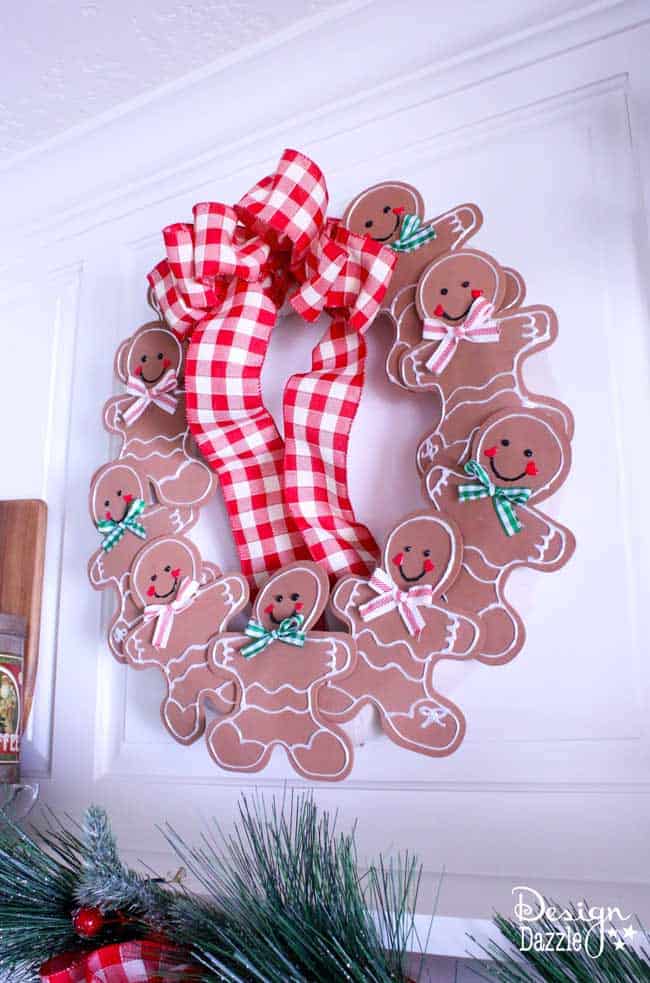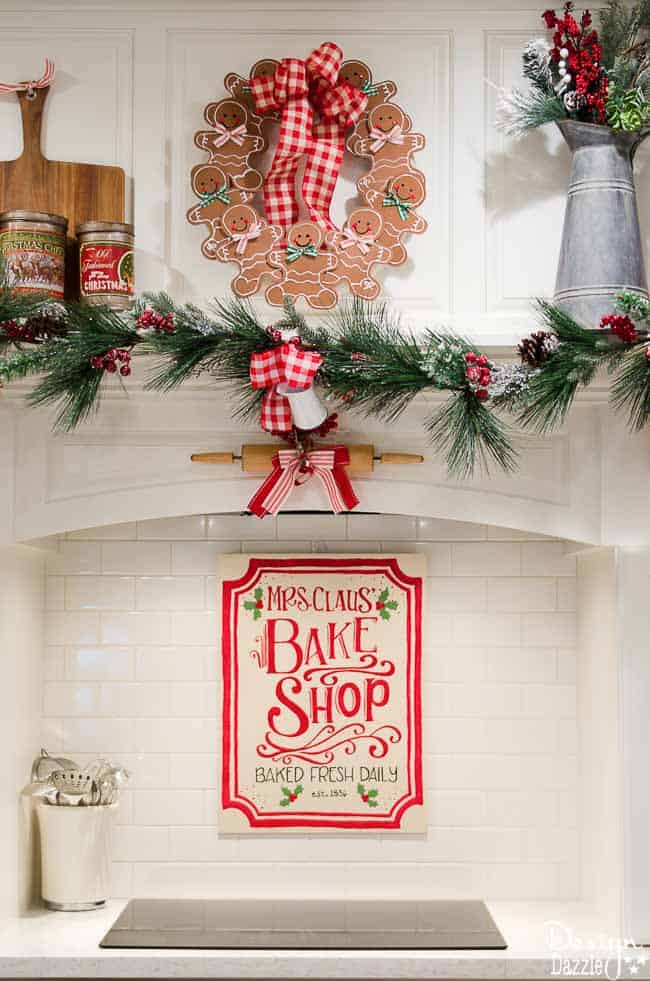 If you like my gingerbread wreath, you will want to see my Christmas kitchen tour.
What decorating are you doing this Christmas season? Do you have any special places you use Command™ Brand strips? I would love for you to share with me your decorating ideas.


Save
Save
Save
Save
Save
Save
Save
Save
Save