I would like to introduce our newest Design Dazzle Contributor Amy Oren of Blowout Party. Amy likes to make parties fabulous and fun! Welcome Amy!!
Gone are the days when you could just throw on a tablecloth, some food, and call it a party. Today's dessert tables are all about details, design, and decor. Enter the table backdrops. Consider the backdrop as an extension to your tablecloth. With simple materials, you can transform a beautiful dessert table into an impressive, professional looking work of art, that is tasteful to the eye as much as it is to the palate.
The backdrop for this kite party is a great example. The clean, yet illustrative backdrop sets the scene, complements the theme, but does not distract you from the actual dessert table.

I absolutely love the bright and dynamic backdrop to this holiday dessert table. The red and white striped fabric is offset by elegant, yet whimsical paper flowers and snowflakes. What an enchanting way to set the scene!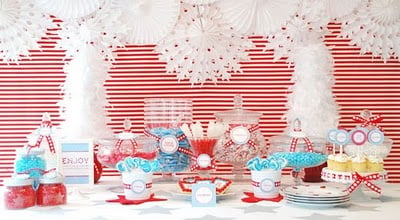 The centerpiece of this winter wonderland dessert table is enhanced by the paper fan arrangement behind it.

For this circus party, a canopy frame supports the striped fabric, giving the whole dessert table a circus tent look and feel.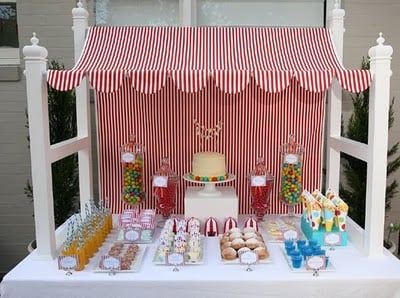 A lovely chalkboard menu as a backdrop for a patisserie inspired tea station– how wonderful!

Ribbon backdrops are beautiful as well as versatile. They can lend a dessert table anything from an elegant and formal air, to a light and airy feel. This dessert table on the beach has a delightful, graceful, and breezy backdrop.

This ribbon backdrop was designed to look like the sea- effervescent and magical.

Using a few oversized balloons behind the dessert table makes for a clean and simple, yet bold presentation.

Sometimes, all you have to do is get creative with the space you actually have. This dessert table was set in front of the loft's freight elevator. The authenticity of the textured wall adds another dimension to table. It's interesting and tells a story.

When planning your dessert table, remember to balance out colors and textures between wall, table, and everything in between!
Red and white striped fabric for a darling backdrop….
SheetWorld Flannel26917-2 – Red & White Stripe Fabric – By The Yard
White feather tree
White Feather Tree
WeGlow International 19″ Rice Paper Sunburst – White (each)
WeGlow International 14″ Rice Paper Sunburst – White (each)