Happy Birthday Dr. Seuss!! (we are celebrating a little early). What better way to celebrate Dr. Seuss' Birthday that with crafts and fun activities!! Theodor Seuss Geisel (his real name) has enriched the lives of many children with his beloved stories. I don't need much of an excuse to read Dr. Seuss, so I plan on taking full advantage of his birthday on March 2 and enjoying his iconic rhymes! Here is a whole collection of fabulous Dr. Seuss Ideas!
Truffle Tree from Design Dazzle. Great DIY from the dollar store that look like Truffle Trees!! Make and then read the Lorax!
Thing One Handprint from Mom Dot. Super cute artwork for kids! Great way to celebrate Dr. Suess' Birthday! Then go read the Cat in the Hat!
Suitcase Writing Activity from Inner Child Fun. Make a suitcase out of a paper bag for a writing activity! Make sure to read Oh the Places You'll Go!
OOBLECK from A Spotted Pony. Ok, kids will LOVE this easy to make slime. Then read Bartholomew and the Oobleck.
One Fish Two Fish Chart from Oopsey Daisy. Cute activity with colorful goldfish for preschoolers! Read One Fish Two Fish Red Fish Blue Fish.
Fish Canvas Painting from Glued to my Craft. I love this one for One Fish Two Fish as well. Such a cute book!
Horton Hears a Who Craft from Tippy Toe Crafts. What a great way to talk about how special we are…no matter how small. Then of course read Horton Hears a Who.
Cat in the Hat Face from Design Dazzle. Darling craft for kids with a paper plate! Make sure to read Cat in the Hat!
Fox in Sox Craft from Glued to my Craft. Darling fox craft to make after reading Fox in Sox. A personal favorite.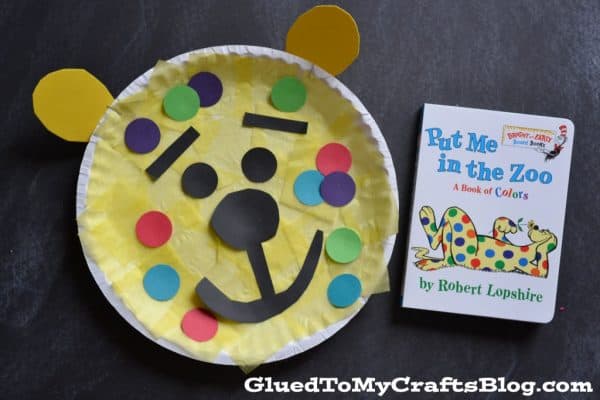 Leopard Craft from Glued to my Crafts. Super cute idea for kids. Then read Put Me in the Zoo!
Happy Birthday Dr. Suess!!