I've seen a number of wonderful Owl Nuseries that are very woodsy with earth tones and natural elements.  This is another great Owl Nursery that is fun and playful but has barely a hint of woodsy! Seriously, that's not a slam of woodsy owls. I love those! But this playful Owl Nursery in hues of pink and green is simply fabulous! This is another great room from Melissa of Melissa Lane Interiors. Melissa says, "I was inspired to do an owl theme when I first saw the cute plush owls at Pottery Barn Kids.  From there I went over to my local Joann's store to find fabric.  I fell in love with the vintage floral print from their home dec section.  And then just accented with some green fabrics.  Then I accessorized with owls." See that great artwork over the crib?  Melissa bought a selection of vinyl decal owls off of etsy and then used frames and fabric to make a wall collage. The walls are painted Ralph Lauren RLVM213 Salmon Pink.
Melissa used the same fabric to make the crib bumper and reupholster the chair.
Cute owl pillow from Pottery Barn Kids started the entire design idea!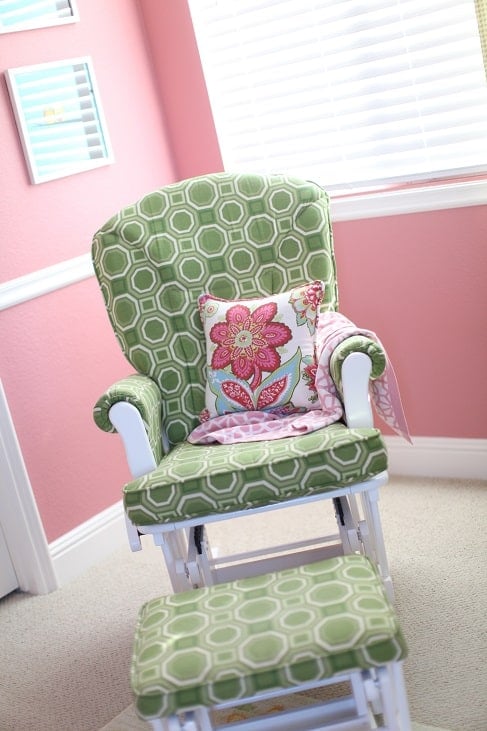 Can't find a glider you love? Give yours a face lift! Melissa re-upholstered this one in fabric she got at Jo-Anns.


Posted on April 3, 2013

Categories:
Leave A Comment
Comments